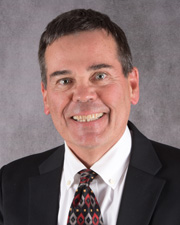 Michael A. Kinzer, M.D., F.A.C.R.
Michael A. Kinzer, M.D., F.A.C.R., joined FWRadiology in 1989. The Markle, Indiana native graduated from Taylor University in Upland, Indiana, with a degree in chemistry, Summa Cum Laude and then earned a medical degree from Indiana University School of Medicine in Indianapolis in 1983. After spending two years in a family practice residency at St. Joseph's Medical Center in South Bend, Indiana, Dr. Kinzer completed a residency in radiology at Methodist Hospital in Indianapolis in 1989.
Dr. Kinzer is board certified by the American Board of Radiology. His professional memberships include the Fort Wayne Medical Society, American College of Radiology, Indiana Roentgen Society and the Radiological Society of North America. He is also a member of the Society of Nuclear Medicine and the Society of Cardiovascular and Interventional Radiology.