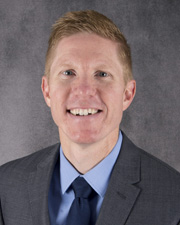 Andrew W. Potter, M.D. has been a part of FWRadiology since the summer of 2011. This Fort Wayne native graduated from Northrop High School before heading to Purdue University for his Bachelor of Science in chemistry. After graduation from Purdue in 2001, Dr. Potter continued his education at the Indiana University School of Medicine in Indianapolis. He received his M.D. in 2005 and decided to remain in Indianapolis one more year for his internship in preliminary medicine at St. Vincent Hospital.
In the summer of 2006 Dr. Potter traveled to the big state of Texas. He completed a four-year residency in diagnostic and interventional radiology at the University of Texas Health Science Center in Houston. During his residency Dr. Potter gained additional experience working nights and weekends at the nearby VA Medical Center.
He gained board certification from the American Board of Radiology in May of 2010 and completed a one-year fellowship in neuroradiology, also at the University of Texas Health Science Center. Dr. Potter is a member of the American College of Radiology, the American Roentgen Ray Society, the American Society of Neuroradiology and the Radiological Society of North America.